---
Medical Students Mobilizing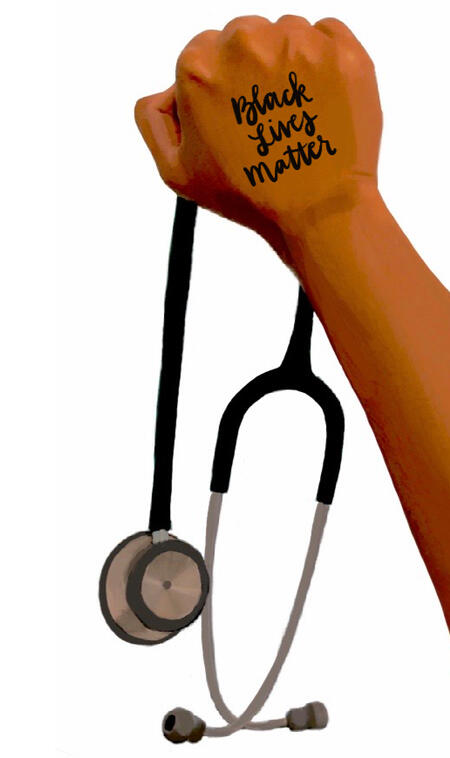 We're 7000+ medical trainees demanding an end to police violence against our Black colleagues, patients, & families. Use your power to protect Black lives and end police violence.
---
Shareable Graphics
Suggested Hashtags:
#medstudentsforblm
#blacklivesmatter
#whitecoatsforblacklives
Tag:
Representatives, reporters, influencers
@medicalstudentsmobilizing
---
The Letter*
Dear Senator or Congressperson,
We are medical students concerned that members of the Black community are constantly killed at the hands of the government and racist Americans. This is about George Floyd, but it is also about Eric Garner, Laquan McDonald, Sandra Bland, Breonna Taylor, Philando Castile, Antronie Scott, Tamir Rice, Michael Brown, Nina Pop and countless others.[1] Being Black in America is considered a social determinant of health because Blackness itself puts people at a greater risk of death from any cause. Black people are twice as likely to die from heart disease before turning 50 and more likely to have hypertension, diabetes, a stroke, or die during childbirth.[2][3]
Black Americans are twice as likely to die from SARS-CoV-2.[4]
These differences in morbidity and mortality are because of expansive and institutionalized racism and are the legacy of slavery, not because of physiology.

The institutions of policing and incarceration contribute to these morbidities. About 1 in every 1,000 Black men are killed by the police—a rate 2.5-2.8 times greater than white men.[5][6]
There is no system that records and publicizes the death of humans in police custody. In December 2014, Congress mandated that the Department of Justice assemble records of deaths that occur under police custody. However, there is still no system in place.[7]
The antecedent bill that mandated the DOJ report the circumstances of deaths-in-custody has likewise been ignored; no report is available that details why, how, or where people are being killed.

We are concerned that we are entering a career to augment health and promote wellness while law enforcement, individuals, institutions—the government and its legislation, rooted in white supremacy—kill those same people we want to heal. It is outrageous that more has not been done and that no system has been implemented to protect the Black community in this country.

Physicians are required to maintain extensive electronic medical records. Without these records, patients' health would suffer, care would be discontinuous, and it would be impossible to hold healthcare providers accountable for negligence or maleficence. Medicine as a business and as the art of healing requires thorough record-keeping. Peace-keeping should be no different. Current attempts to record the behavior of police seem to be reliably ineffectual: police are outfitted with cameras that rarely capture their crimes and the burden to prove victims' innocence has fallen upon bystanders. Meanwhile, it seems several police officers are abusing and killing people and continuing unabated to commit more violence.[8][9]
There is no excuse for the absence of a systematic, government-sponsored record of deaths that occur in custody. Like physicians and other healthcare providers, police must be accountable for people harmed under their care.

Because of these concerns, we demand:

1. Legislation that stipulates records of deaths and injuries that occur under police custody in exchange for law-enforcement funding and material support. Without these records, police funding should be withheld.
2. The United States Department of Justice must establish a database that records all complaints of violence and abuse against police officers. All new-hire police officers should be cross-referenced against this registry as part of their background check. Police officers who exercise violence and aggression against their community should not be eligible for re-hire elsewhere.
3. Legislation that mandates immediate suspension and investigation of officers under whose custody people die from police violence or experience excessive force. This should include a strict timeline that enforces suspension, investigation, and criminal charges when appropriate. There should be no confusion about when to expect information, and investigations must be overseen by third-party non-police coalitions (vide infra). All such incidents should be recorded in the database.
4. The Fourth Amendment has been used to provide a "reasonableness" standard for police officers who are under investigation for using excessive or deadly force. In court, jurors are expected to use this standard to judge the "reasonableness" of a particular use of force from the perspective of a reasonable police officer on the scene, rather than with the 20/20 vision of hindsight. It is duly noted that police officers are often expected to make split-second decisions judgements, but the current "reasonableness" standard does not account for the institutional racism that exists within the police force and must be changed accordingly.[10][11][12]
Clearly, justice must be redefined beyond simply convicting and incarcerating police officers. To address this, a diverse national task force led by community activists from across the country should be chartered. This ensemble will work full-time with investigative oversight authority when individuals die or are abused in police custody. It will function as liaison to the community, ensure the validity of investigations, and facilitate meaningful justice. This committee should mediate victims' complaints against authority and determine the most appropriate implementation of justice based on a community's desire and need. It must be robustly staffed and well-funded.
5. Legal protection for bystanders who risk their safety to record instances of police brutality and abuse.
6. Federal prohibition of physical maneuvers that utilize excessive force as these can be deadly. Several police departments have prohibited chokeholds; this should be expanded and instituted nationally. The use of force should be a last resort. Moreover, the force used should be objectively reasonable, necessary, and proportionate to the circumstances. If an injury were to arise, officers should promptly provide or request medical aid, and all employees must stop and report uses of force that violate any applicable laws and/or these guidelines. Similar changes were made by the Camden County Police Department of New Jersey, where officers are expected to first de-escalate and resolve conflicts without force. This too, should be expanded and instituted nationally.[13]
7. Diversification of police departments toward demographics that represent the community being policed. Restorative justice cannot be served by disproportionately white police forces in predominantly non-white communities. Affirmative-action type programs should be implemented to prepare and enable new police recruits.

It is critical that members of the Black community and other people of color disproportionately affected by racial violence are given the resources to influence and implement these new policies. No one is more qualified, or more deserving, of being empowered to change the violent course that this country has chosen. Yet, we have to acknowledge the labor disadvantage placed on minorities. In educational institutions like ours, the onus should not be solely on Black students to advocate for the safety of all Black people in America. Black medical students, faculty, and deans are vastly underrepresented in this country. This forces our Black colleagues, in every institution, to do more work: a source inequity itself. We must all, especially White Americans and most particularly White medical students, dedicate our labor to this cause.

We demand the American government be held responsible for these murders. As long as this continues, we are each culpable for homicides that are as egregious as the deaths of Emmett Till and the thousands of other victims lynched by racists. We implore you to denounce the politicization of this issue and to recognize it for what it is: systemic, calculated racism. As medical students, we have committed ourselves to the betterment of our communities. It is far past time we publicly include matters of state-sponsored violence as an issue of health, an issue that is very much within our scope of practice.

The following medical students have co-signed this letter:
*There is an addendum, click here. Website text will be updated soon to reflect changes.
---
JOIN US
---
Last Updated: June 8, 2020 @ 9:15pm CST